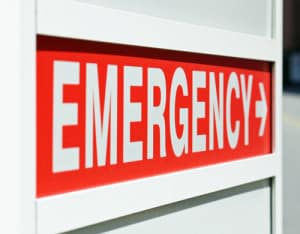 Picture a nice day at the park, just you and your kids. The sun is bright and warm. A soft breeze washes over you, carrying the soft tunes of bird song. Then suddenly you hear it: a loud bang and your child crying. As you are running, you notice the hand clasped firmly in front of the mouth and a trickle of blood seeping through the fingers. Do you know what to do?
A dental emergency can occur for you or your child at any moment. Knowing the proper steps to take in the event of an emergency can offer you greater peace of mind and better care in the event of any trouble. Here to share some advice about dental emergencies is your
Grand Prairie dentist
, Dr. Quinn Smith. He discusses three common dental emergencies.
Three Common Emergency Situations
1.

Knocked-out tooth
. If you or your child has a tooth knocked out, your first priority is to rinse the mouth with warm water. Doing so can remove bacteria and lower the risk of an infection. Next, look for the tooth. If you are able to find it, rinse it with water and place it back in the empty socket. If you are uncomfortable replacing the tooth, put it in a glass of milk. Then call your
Grand Prairie emergency dentist
, Dr. Smith, and bring the glass of milk with you to your dental visit.
2.

Broken tooth.
In the event of a broken tooth, rinse your mouth with warm water. The broken tooth is at risk of infection, and rinsing can remove some bacteria. Next apply a cold compress to limit any swelling, and call Dr. Smith.
3.

Cracked tooth.
Just like a broken tooth, a cracked tooth is at an increased risk of infection. Rinse your mouth and apply a cold compress. Then call Dr. Smith for dental care.
Schedule a Visit with Your Grand Prairie Emergency Dentist
If you experience a dental emergency, prompt care is vital. Call your Grand Prairie emergency dentist, Dr. Smith, at 972-262-5111. Our 75052 dental office welcomes patients from Grand Prairie, Arlington, South Dallas, Cedar Hill, Duncanville, and surrounding communities.