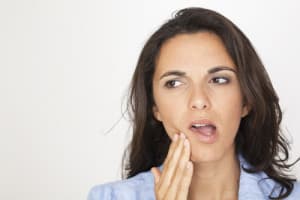 A toothache can start off as a minor annoyance. However, if it lingers, pain and frustration can feel like constant companions. Some toothaches can indicate serious problems in the mouth, while others may be fleeting sensitivities. How, then, can you tell the difference between them. Below, your
Grand Prairie dentist
, Dr. Quinn Smith, examines four causes of toothaches and explains when a
toothache
may indicate a serious problem.
Four Causes of Toothaches
1.
Bruxism
. Bruxism, or teeth grinding, places significant strain on teeth. Prolonged exposure to this type of strain can wear teeth down, and eventually they may crack, chip, or break. However, before structural damage occurs, teeth may become sensitive and ache. If you notice pain in your teeth following sleep as well as a sore jaw, you may be grinding your teeth and require dental care.
2.
A cracked tooth
. A cracked tooth typically causes a sharp pain during biting or chewing. It also usually exhibits greater sensitivity to hot and cold temperatures. A cracked tooth is a weakened tooth, meaning that bacteria are able to attack it more easily. Thus, if you think your
toothache
is the result of a cracked tooth, contact your
Grand Prairie
dentist, Dr. Smith, for assistance.
3.
Tooth decay
. Tooth decay is not always painful, but sometimes it can be. If your toothache lingers for several days, tooth decay may be the culprit. Any kind of tooth decay requires treatment or else it is capable of worsening.
4.
An irritant
. Quite often a toothache is the result of an irritant caught between teeth. Thus, a good first step to follow upon developing a toothache is to rinse your mouth with warm water and floss in the area of the toothache. If you experience relief, the cause was likely an irritant. If the pain lingers, the cause may be something more serious.
Visit Your Grand Prairie Dentist
If you have a
toothache
that lingers for days on end, don't ignore your body's warning.
Contact
our 75052 dental office to schedule an appointment or a consultation with your
Grand Prairie
dentist, Dr. Smith, today by calling 972-262-5111. We welcome patients from Grand Prairie, Arlington, South Dallas, Cedar Hill, Duncanville, and surrounding communities.