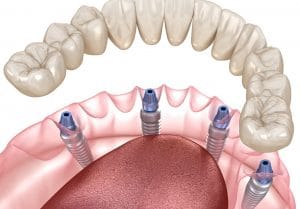 Today's dental restorations, especially those that are meant to replace lost teeth, are often designed to be so lifelike that they're nearly identical to your healthy, natural teeth in appearance. However, appearance isn't all that makes a natural tooth, and there's more to its structure than what you see above your gums. The roots of your teeth, which are not visible but play several significant roles in your oral health, are not part of the restoration for most traditional prostheses. With dental implants, though, your bridge or denture can enjoy the support of root-like posts, creating a much more lifelike and beneficial restoration.
How dental implants are designed to work
Dental implants are not substantially different from traditional tooth replacement options. The main difference is the support they provide, which mimics the anchor-like foundations of your natural teeth roots. The implant posts are designed to be placed within your jawbone structure, so that it can heal to the posts' surfaces and support them in a similar way to your healthy, natural teeth roots. After healing, the jawbone can stabilize the implant posts and a custom-made restoration can be secured to them, whether it's a dental bridge or denture (depending on how many teeth you've lost).
The importance of stability for your bite
There are many ways in which dental implant posts can enhance a custom restoration, and the stability that they provide is one of the most important. For more conventional restorations, things like abutment teeth (which are modified to support a restoration) or clasps may be required to keep your replacement teeth stable. By contrast, dental implants give your restoration more lifelike stability by anchoring it to your dental ridge in much the same way roots anchor your healthy, natural teeth. This helps improve several aspects of your restoration, including its longevity, quality, and its ability to fully restore your bite's function.
The benefits of replacing lost teeth roots
The way in which dental implants improve your restoration's comfort and function are essential parts of the benefits that they provide over more traditional option. However, the advantages of replacing your lost teeth roots goes beyond what you can immediately notice. For instance, many of the more destructive and long-term consequences of tooth loss result specifically from the loss of your teeth roots, including the gradual loss of mass and density in your jawbone. Preventing these effects requires replacing your lost teeth roots, which only dental implants can do for you.
Enhance your restoration with dental implants
Though it may seem minor at first glance, the ability to replace your lost teeth roots and offer your restoration similar support can have many significant benefits for your smile. To learn more, schedule an appointment with Dr. Smith and our team by calling Pecan Tree Dental in Grand  Prairie, TX, today at (972) 262-5111.