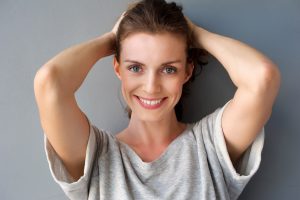 When it comes to restoring or rebuilding your smile, the best treatment options are those that aren't obvious. The goal of smile restoration is to restore your smile's natural health, beauty, and function. If your treatment is obvious, then it has largely failed in that mission. With dental implants, which are lifelike prosthetic roots designed to support a custom-designed dental prosthesis, optimal realism is one of their greatest benefits. For patients at our Grand Prairie, TX, dental office who have lost one or more teeth, receiving one or more dental implants helps ensure that their new smiles are as healthy, beautiful, and functional as their natural ones.
What are dental implants?
The most realistic (and unique) thing about dental implants is that they offer something traditional prostheses can't – a prosthetic option for replacing lost teeth roots. Implants are root-like posts that are placed within the jawbone. Made from biocompatible titanium, they're designed for your jawbone to fuse to their surfaces as it heals following the placement procedure.
They're main goals
The main goals of dental implant posts are to offer the most lifelike support for your replacement teeth, and to reestablish the vital functions of your lost teeth roots. They accomplish the first goal by anchoring your custom dental crown, bridge, or denture in place atop your dental ridge, much the same way natural roots support your healthy teeth. They accomplish the second goal by restoring the stimulation in your jawbone every time you bite and chew with your implant-supported prosthesis.
Why they're unnoticeable
Besides the fact that dental implant posts are inserted into your jawbone, they also remain virtually unnoticeable due to the lifelike support that they offer your prosthesis. Unlike traditional replacement teeth that utilize adhesives or hidden clasps, and can often shift over time, dental implants mimic the way your natural teeth are held in place.
Find out if you should get dental implants
The ability to completely rebuild your smile following tooth loss with highly lifelike results means no one will ever have to know you have dental implants, unless you want them to. To schedule an appointment with Dr. Smith and out team, call Pecan Tree Dental in Grand Prairie, TX, today at (972) 262-5111.