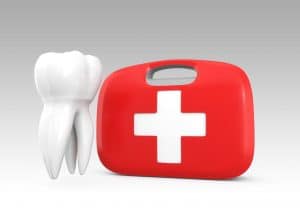 A dental emergency can mean something different to everyone, and even in different situations with your own oral health. Because it can span so many different conditions, it isn't always easy to determine if your concern should be considered an emergency or not. If not, then you may not need to schedule an emergency dental appointment. However, rather than risk ignoring an emergency because you aren't sure, we prefer you receive the treatment you need as soon as possible, or at least be sure that your condition isn't an immediate threat.
1. Your tooth starts to hurt suddenly
If your tooth has been hurting for a while now, you might not think it warrants being called an emergency. You've waited this long, maybe you should just wait another couple of months until your routine checkup and cleaning appointment. However, that isn't a preferable idea. If your tooth has been hurting, then it has likely gotten worse since you first felt it (which is why you wonder if it's an emergency now). It will only get worse, and depending on the cause of it, a couple of months or more could mean significantly more trouble by the time you do have your dentist look at it.
2. You notice a tooth is way too loose
Your teeth shouldn't move, period. To absorb the pressure of your bite, your teeth roots are supported by a system of periodontal ligaments that allow them just the slightest bit of give under immense pressure. However, you shouldn't notice this movement, and if you do, these ligaments may be compromised. So may the periodontal tissues (gums) and/or jawbone structure that supports them all. If you haven't experienced a traumatic injury that's knocked your tooth loose, then this could indicate the progression of gum disease, which erodes the supportive tissues and structures around your teeth roots. Noticeable looseness could mean that the tooth is near being lost or needing extraction due to the disease.
3. You see your gums bleeding
Your gums shouldn't bleed, either. You might notice some spots of blood mixed with your saliva when you brush and floss, which seem minor since you don't feel any discomfort. Give it enough time, however, and the cause of your gum bleeding will cause it to get worse, and the risk to your oral health can become significant. Bleeding gums are also a sign of gum disease, and as the leading cause of adult tooth loss, it's a condition that should always be treated as soon as possible. If ignored long enough, bleeding gums might be accompanied by chronic bad breath, as well as the symptoms mentioned above and much more.
Call us if you have a dental emergency
If you experience one of these or another dental emergency, then it's best to seek treatment for it as soon as possible to stop it from growing more severe. For the quality care you need in a dental emergency, schedule an appointment with Dr. Smith and our team by calling Pecan Tree Dental in Grand Prairie, TX, today at (972) 262-5111.