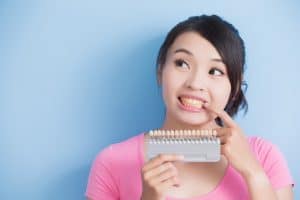 For some patients, whitening their teeth on a periodic basis has almost always been a part of their routine dental care. Though never performed as frequently as routine checkups and cleanings, which are necessary to prevent most other types of oral health issues, teeth-whitening is the most convenient and effective solution for dealing with common teeth stains. However, while it may be commonly recommended and highly effective at brightening stained teeth, whitening your teeth is only a good idea given a few factors are met. Today, we examine just a few of these, and why it's important to checkup them before whitening your teeth.
1. The nature of your teeth stains
Teeth stains might be common, but not all of them are the same. Teeth-whitening is treatment is designed to address a specific type of tooth stain – the extrinsic kind that develop on the outer (external) layer of your teeth surfaces. Extrinsic stains can occur to varying degrees, with some even becoming noticeable enough to resemble more serious internal discoloration. If your teeth stains aren't on your teeth's surfaces, then the whitening solution won't be able to reach them. Therefore, it's paramount to the success of your treatment to first determine the specific nature of the stains that mar your teeth.
2. The overall state of your oral health
Whether or not the stains on your teeth are extrinsic, it's equally important to check the overall state of your oral health before undergoing teeth-whitening. For instance, you may not realize that one or more teeth have cavities, which are holes formed by the development of tooth decay. Or, you may have failed to notice the irritation in your gums that could indicate gingivitis, and that needs to be addressed before it causes more significant damage to your teeth and oral structures.
3. The time you want to spend on treatment
Once we've helped you determine if teeth-whitening is the right choice for your smile, we'll help you decide which form of teeth-whitening can suit your needs and preferences best. This can include at-home whitening, which you can perform from the comfort of your home, or in-office treatment that we can complete in just over an hour. For enhanced results, we might suggest both in-office treatment and a take-home kit, allowing you to erase even the most stubborn teeth stains and enjoy a brighter smile.
Learn more about whitening your teeth
A brighter smile is something to get excited about, but before you undergo teeth-whitening treatment, we'll check these and a few other factors to ensure it's the right treatment for you. To learn more, schedule an appointment with Dr. Smith and our team by calling Pecan Tree Dental in Grand  Prairie, TX, today at (972) 262-5111.