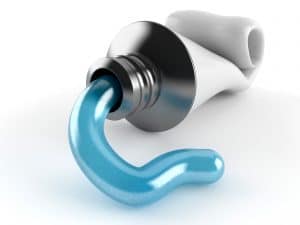 Many of us don't think much about toothpaste. We use it until the tube is just about empty, then add it to the shopping list and restock our bathroom shelves. Toothpaste is a crucial ally in keeping teeth cleaned of food particles and oral bacteria. Our dental team in Grand Prairie, TX knows that proper daily home care, and attending regularly schedule checks and cleanings, are vital to good oral health. If you are in the know about good family brushing, you'll be ahead in the tooth care game!
Did You Know: All Toothpastes Are Not Created Equal
Before you purchase toothpaste, be sure it has the American Dental Society Seal of Acceptance. This seal is only given to products that have been thoroughly tested and evaluated to be safe and work effectively as promised. Products that do not have the seal have either not been submitted for evaluation, or have not met the exacting ADA standards. Don't be swayed by advertising; make sure you look for the ADA seal.
Did You Know: 
A Pea-Sized Dab Is Usually Enough
Unless your dentist has instructed you differently, adults should use a pea-sized amount of toothpaste. Children's dental care requires even smaller amounts, and toddlers may start brushing with no toothpaste at all. There is no benefit in over applying toothpaste, it is simply money down the drain.
Did You Know: Remind Children To Spit Out Toothpaste Residue
Both children and adults benefit from good dental hygiene, and everyone should spit out toothpaste after brushing, rather than swallowing it. Toothpaste contains fluoride and other chemicals, and should not be eaten or purposefully swallowed.  While there is unlikely to be harm in occasionally swallowing after brushing, or swallowing small amounts as you brush, if your toothpaste tastes so good that you (or your child) considers eating it as a treat, it is time for a discussion. 
Toothpaste Helps Maintain Your Smile
Regular brushing is one way to maintain good dental health at home. Regular visits for more advanced cleanings offer even more smile support! Set up an appointment in Grand Prairie, TX by contacting your dentist at Pecan Tree Dental to schedule a visit at (972) 262-5111.