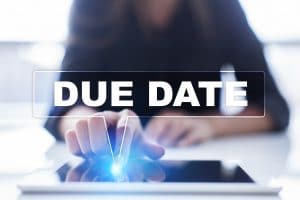 When you're thinking about your dental care, it's easy to have exceptional intentions and to feel convinced that you're definitely going to follow through on them. However, it's also very easy to let time pass and suddenly realized you haven't actually scheduled a single thing. Why not take in some reminders from our Grand Prairie, TX team? We encourage you to set some due dates for yourself for the things your smile needs and for your personal goals, so you get the care your smile requires and you feel on top of the world as you run through your checklist!
Are You Due For Your Cleaning And Checkup Soon?
Yep, this is one of those things that you really need to ask yourself. It may feel like you have all the time in the world when you know you only need to call us and schedule a visit every six months. However, believe us when we say that six months can go by in a flash! So, be sure to ring us up, get your cleaning and checkup on the books, and to see us twice this year and every year for effective dental care!
Are You Due For A Restorative Treatment?
You definitely already know the answer to this one! If you are due for a restorative treatment, then right now is the time to schedule this dental care. The only thing you can gain from waiting is additional problems (and you don't want those!).
Are You Due To Take Care Of 2019 Resolutions?
What did you put on that list of yours in relation to your smile care as 2018 came to a close? Did your resolutions include something that would help you attain a better smile? If you were simply focused on being better with your prevention or restoring your oral health, then you're already received the quick reminders you need to get going. However, if you were thinking more along the lines of pursuing cosmetic care for a smile that's prettier or even snoring/sleep apnea treatment for issues with sleeping, then now is the time to give us a call! We would love to see you, to help you with these concerns, and to get you on a path toward making good on those important resolutions you set forth for yourself!
See Us To Take Care Of Smile Care Needs
When you're due for your cleaning and checkup, for a restorative treatment, or even to take care of important goals that you set for yourself, remember that all you have to do is pick up the phone and call our team. Set up an appointment in Grand Prairie, TX by contacting your dentist at Pecan Tree Dental to schedule a visit at (972) 262-5111.