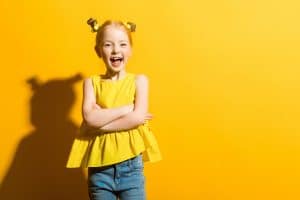 You could probably collaborate with us in coming up with a list a mile long of beneficial things you could do to protect your smile as well as the oral health of your child. However, life is busy, the days often seem shorter and shorter, and what you really need is a streamlined approach to keeping teeth and gums safe! What's the best way, you wonder, to protect the health of your children's smile? Fortunately, our Grand Prairie, TX team is full of helpful facts, information, and tidbits that will ensure you're doing just what you need to do to keep your son or daughter's growing smile on a path toward exceptional health.
#1: Dental Hygiene
The first thing that your child really needs in order to enjoy optimal oral health? To brush and floss. We recognize that in the beginning, this may cause a bit of frustration as kids won't be able to master the details quickly, they may not always want to brush and floss, and you may wonder if it will ever get any easier. It will! When you follow through with this aspect of preventive care at home (and when you bring kids in to see us), your actions will eventually turn into independent habits that your children get very good at! The best part? It will help them maintain wonderful smile health now and into adulthood!
#2: Prevention With Us
As mentioned, you will also need to bring your kiddos on in to see our team. Just like we suggest you schedule dental checkups and cleanings to keep your adult smile safe, you need to schedule cleanings and checkups for your kids. Their smiles are coated in plaque and develop tartar, too. They are susceptible to hygiene-related and functional issues, too! When this aspect of preventive care is something you're consistent with, we can offer serious oral health protection for your son or daughter's growing grin!
#3: Simple Steps
Last but not least, take those simple steps we suggest that will help keep oral health on track for your whole family. Things like limiting sugar, remembering that you shouldn't eat right before bed once teeth are clean, and that acidic beverages like soda or juice can harm teeth (and require rinsing after drinking) will all help keep smiles healthy.
Help Your Kids Enjoy Healthy Smiles With Our Dental Care
Care for your children's smiles at home and remember to schedule visits with us for children's dentistry, too, for exceptional results! Set up an appointment in Grand Prairie, TX by contacting your dentist at Pecan Tree Dental to schedule a visit at (972) 262-5111.