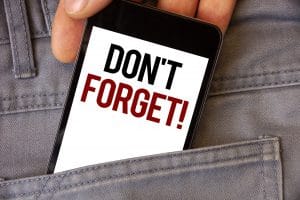 You may expect a lot of reminders from our Grand Prairie, TX team. You think we'll remind you to schedule your preventive care appointments with us, so you can keep your oral health safe. You know for a fact that when you see us for checkups, we will remind you to brush and especially to floss. You even know we will suggest you ask us questions because sometimes patients forget or simply feel too shy. What you may not have seen coming but that is certainly important is our decision to remind you to rinse! "What's that?" you might ask, "you want me to rinse my smile?" The answer is yes and we have some additional advice heading your way.
Reminder 1: You Can Rinse Whenever You Want!
Our team reminds you that you can rinse your smile whenever you want. There are so many ways to do it, which means you will rarely be in a situation in which this choice, which is beneficial for your oral health, isn't an option. Keep the following in mind, so you recognize it's almost always a good time to rinse your mouth with water:
If you sip your glass of water and move the water around your mouth before gulping it down, you've just rinsed, so you can do this even during mealtime!
Anywhere that you see a sink, you can rinse.
When there's a water fountain nearby, you can swish and then swallow.
If you carry a bottle of water with you, rinsing is always easy.
Reminder 2: It's Very Helpful For Many Things
So, why all of these reminders to rinse your smile with water, you ask? Well, it's to help you protect your oral health. Yes, your dental hygiene and your preventive care with our practice will go quite far. However, when you're going about your daily business, it's been several hours since your morning brushing session, and you've had a donut, two cups of coffee, and you're getting close to lunch, what's protecting your oral health? Rinsing with water offers substantial help against decay and other hygiene-related concerns.
Reminder 3: Following It Up With Brushing Is Highly Effective
When you talk with us about rinsing during your cleaning and checkup, we will be happy to talk with you about the most effective way to rinse and protect your smile. While rinsing alone is going to be highly beneficial, we encourage you to remember the following, as well, if you have the time: After rinsing, follow it with a brushing session in 30 minutes if you can!
Remember That We Have Hygiene Tips To Help You
If you need help with keeping your smile its healthiest, we encourage you to let us know! Our team is full of advice for you. Set up an appointment in Grand Prairie, TX by contacting your dentist at Pecan Tree Dental to schedule a visit at (972) 262-5111.