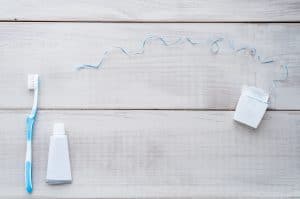 There are some suggestions our Grand Prairie, TX team loves to offer our patients in regard to dental hygiene. Today, we would love to specifically talk about some things you might not really consider in relation to dental floss but that you really should. Why, you ask? Well, because when you plan ahead and keep floss with you, you'll find that you can take even better care of your smile and you can even quickly get yourself out of some otherwise embarrassing and uncomfortable experiences. Find out more!
You Need To Remember To Pack It!
If you're going on a trip, don't forget to pack your floss! Forgetting your dental hygiene products is a frequent mishap, so we encourage you to write a list. What you may also appreciate is to take this a step further:
If you're heading out on a road trip, keep some floss in your glove box or in a bag that you carry all the time, so you're never without the ability to remove food from between teeth!
If you're traveling by plane, pack an extra container of floss in your carry-on bag (the one you can access) just in case you need it.
You Should Keep It At Work
Don't find yourself stuck at work without a way to dislodge food from between teeth. While you may not keep an entire dental hygiene collection with you, floss is one of those things you sometimes simply cannot get by without. When food gets stuck between teeth, it's not a good idea to try to use other things like paper, paper clips, or toothpicks because they can lead to injury. When you have floss on hand, you can solve your dilemma, rinse, and you're nearly good as new!
You Should Ask Us For Help
You might not think there's anything too special about flossing. As long as you're doing it in some fashion, it's probably working, right? Actually, it's only working if you're doing it the right way and you're thorough! Ask us for a quick rundown of the details during your next checkup with our team!
See Us For Dental Hygiene Suggestions
Come in for your dental checkup and don't forget that it's a wonderful opportunity to ask us for some helpful tips to make daily dental care easier. Set up an appointment in Grand Prairie, TX by contacting your dentist at Pecan Tree Dental to schedule a visit at (972) 262-5111.