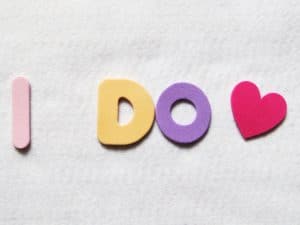 When you're planning your wedding, one thing you know is that you want a white, beautiful smile for photos. However, beyond that detail, you might not have considered what it's going to take to ensure you've actually achieved that goal on time. You may not have considered, either, that there are some other factors to think through to ensure that when your special day rolls around, the last thing you're doing is worrying about your smile health, your white smile (or not so white), and more. Let's talk about dental care and three things you've got to think about as soon as possible.
Schedule A Visit Well Ahead Of Time
If you call to schedule a dental care visit with us a couple days before your wedding, chances are good we won't have an opening. Or, if we do, we will not have time to help you with all that you need in order to feel prepared for this life changing moment. Don't procrastinate on this one. Instead, come on in nice and early, so you have time for whatever you require or want.
Jump On Cosmetic Changes ASAP
Again, procrastinating is not going to put a smile on your face if what you want is cosmetic dental care. When you're unhappy with the shade of your smile (perhaps you're ready for whitening), you want to fill a space, or anything else that will get you picture-perfect for your big day, you need to give yourself plenty of time. Set up a consultation well in advance, so no matter your goals, they remain achievable.
Take Care Of Problems Pre-Honeymoon
You may find yourself so focused on the way your smile looks that you end up forgetting about how it feels and its health. Don't forget that as much as you want to look beautiful, it's nice to head to your honeymoon without a cavity or an abscess. Whether it's fillings, a root canal, or otherwise that you need, get to it well before the wedding, so you can enjoy a truly blissful day and honeymoon!
Make Your Wedding Smile Its Best!
Get your smile looking good and feeling wonderful well before the big day, so you can focus on everything else! Set up an appointment in Grand Prairie, TX by contacting your dentist at Pecan Tree Dental to schedule a visit at (972) 262-5111.