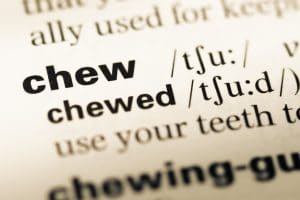 There are those symptoms like uncomfortable chewing that can stop you in your tracks, leaving you wondering what on earth to do next. Should you just try to ignore the issue and continue on as usual, hoping the issue will resolve? Generally speaking, when you're having trouble with the function of your smile, the best thing to do is to schedule a dental checkup with us right away. Whether it's something very minor or something that requires our care, it's always best to check in with us sooner than later.
If It's Painful To Chew
It should not hurt to chew your food. If it hurts, remember that it could be the result of a wide variety of issues, all of which are treatable. Rather than trying to evaluate the problem on your own, we suggest you come in for a dental checkup. This way, whether you're dealing with an uncomfortable cavity, with TMJ disorder, with bruxism disorder, with an infection, with inflamed gums, or any other problem, you can access treatment immediately for the true source of the problem. The result? You'll have your comfortable chewing back in no time!
If It's Challenging To Chew
If you're not experiencing any pain exactly but you notice that chewing food is difficult, it's time to talk with us. This could have something to do with the alignment of your smile, you may have lost teeth recently and require replacements, or you may even have eroded chewing surfaces (from something like bruxism) that makes breaking down food difficult. Or, something like dry mouth may be contributing to difficulty with softening your food. To get down to why this is happening and how to fix it, we encourage you to schedule a dental checkup with us!
See Our Team For Help With Chewing
Remember that chewing should be easy and effective. If you notice problems, see us as soon as you can for help. Set up an appointment in Grand Prairie, TX by contacting your dentist at Pecan Tree Dental to schedule a visit at (972) 262-5111.