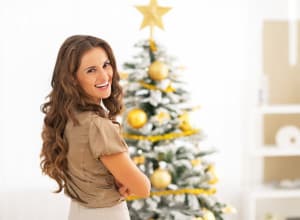 Want to do more than deck the halls this holiday season? Want to make it so that your smile shines as bright as the prettiest lights or the largest star? If so, cosmetic dentistry can certainly help. By helping to hide imperfections and improve the overall appearance of your smile, a cosmetic dentist can help enhance your smile's existing natural beauty, leaving you feeling more confident, even dazzling, in the process. If a prettier smile is all that's on your Christmas wish list, forget writing to Santa, and instead give your cosmetic dentist a call.
What Treatments Are Available?
Many people have heard of teeth whitening and even veneers, but there are actually a number of ways a cosmetic dentist can help improve the appearance of both the teeth and the gums.
Teeth whitening, for instance, is one of the fastest, simplest and most affordable treatment options. It is great for patients only bothered by staining or discoloration of the teeth. In very little time, the dentist can provide dramatic brightening results, either in-office or with a take-home treatment. In-office treatment can erase years of stains in less than an hour, but costs significantly more than the take-home alternative. For patients willing to commit more time to treatment, they may prefer the still-drastic results of at-home treatment, which only require a bit more time and effort on the patients' part.
Veneers can help to correct disproportional teeth, minor spacing between teeth, minor chips, and permanent staining, such as that which occurs within a tooth. Because veneers are crafted from durable dental porcelain they can last more than ten years with proper care, and provide a wonderfully natural-looking and long-lasting way to improve a smile.
Bonding and contouring creates similar results to veneers, but it is even faster and more affordable, because the treatment can be completed in a single visit, relying on the dentist's artistry. Bonding involves applying composite resin to the teeth to sculpt more uniform shapes and sizes, while contouring involves filing away portions of teeth that are disproportionally large. While fast and effective, bonding is not as long-lasting as veneers because the material is not as chip-resistant or stain-proof as porcelain, making it a less ideal choice for smokers or anyone that enjoys a daily cup of coffee or other staining beverage.
Gum contouring is a more invasive treatment than other forms of cosmetic dentistry, but it is necessary if the esthetic issues are related to the gum tissue rather than the teeth. Many people find their smiles appearing more "gummy" as they age. Gum contouring allows the dentist or oral surgeon to carefully sculpt away excessive gum tissue, creating a more pleasing gumline and revealing more of a patient's beautiful teeth!
Which is right for you depends on the desires for your smile, the time and investment you can commit to treatment, and what imperfections concern you most. Your cosmetic dentist can help you determine the best course of action, and if a single treatment will be sufficient for producing your dream smile, or if a number of treatments might need to be combined to create a customized smile makeover you'll want to show off!