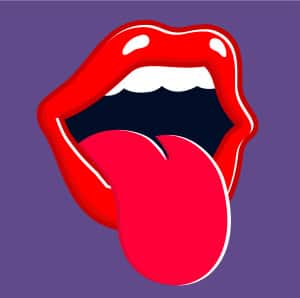 Most people think that a dental exam only concerns their teeth. However, a thorough exam should include your tongue. Your tongue can speak volumes (pardon the pun) about your oral and even your overall health.  Your tongue is a common place to find oral cancer. Because your dentist looks in your mouth at least twice a year, it stands to reason that he or she would be the perfect practitioner to monitor for oral cancer. That's why your dental exam should include your tongue.
Tongue Exam
The most common place to find oral cancer is on the lateral border (the side of your tongue), but because the tongue is the most common place for oral cancer to present itself, any pathology on the tongue should not be ignored. Your dentist should perform a tongue exam using the following steps:
Examine the lateral borders: Your dentist should examine the lateral borders by grasping the tip of your tongue and rolling it over to each side. A mirror should be used to examine the sides of your tongue further back.
Examine the ventral surface: To examine the ventral surface, which is the bottom of your tongue, you should touch the tip of your tongue to your upper teeth. The bottom of your tongue should be pink, smooth, and symmetrical in shape.
Palpitate the tongue: Your dentist should palpitate the tongue between the forefinger and the thumb. The tongue should feel soft and resilient and be free of masses.
A Matter of Survival
When oral cancer is detected in the early stages there is an 80 to 90 percent survival rate. That's another reason why your dental exam should include your tongue.
ABOUT YOUR GRAND PRAIRIE DENTIST:
Dr. Quinn Smith is a well-respected and highly experienced general, restorative, and family dentist in Grand Prairie, TX. He takes a patient-first approach that starts from the moment patients enter our Pecan Tree Dental office, and he offers a three-year guarantee on all dental work that he performs. Whether you and your family are new or returning patients, you can schedule a consultation or your next appointment with Dr. Smith by contacting us at (972) 262-5111.