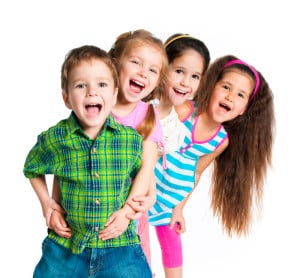 Regardless of the fact that the safety of fluoride has been consistently questioned, especially in young children, fluoride has been proven to help fight cavities. Research has also proven fluoride safe and effective for children and adults. Today, tooth decay is on the rise globally and to fight this epidemic the ADA has released a new statement recommending earlier use of fluoride for children.
Earlier Fluoride Recommendation
Research regarding fluoride use and its possible harms and benefits is an ongoing topic within the dental field. Recently the American Dental Association (ADA) has become aware that it may be more beneficial for children to be given fluoride beginning at a younger age. Previously it was believed that children should not be exposed to fluoride before the age of six. However, new information suggests that if children begin receiving fluoride at a younger age, it can lower the number of cavities they develop in the future.
Children begin to get their permanent teeth around the age of six. The new recommendation is that children should receive fluoride beginning with the development of their primary (baby) teeth rather than their permanent teeth. According to research, 25 percent of children develop their first cavity before reaching kindergarten. Using fluoridated dental products at an earlier age may combat this.
Fluoride
Fluoride is a natural mineral found in nearly all water supplies, and has been proven to help reduce tooth decay. Suspicions among the public regarding the safety of fluoride encouraged numerous research studies over the years analyzing the safety and effectiveness of fluoride for children and adults. No connection has been found between the use of fluoride and any childhood or adult diseases.
ABOUT YOUR GRAND PRAIRIE DENTIST:
Dr. Quinn Smith is a well-respected and highly experienced general, restorative, and family dentist in Grand Prairie, TX. He takes a patient-first approach that starts from the moment patients enter our Pecan Tree Dental office, and he offers a three-year guarantee on all dental work that he performs. Whether you and your family are new or returning patients, you can schedule a consultation or your next appointment with Dr. Smith by contacting us at (972) 262-5111.