H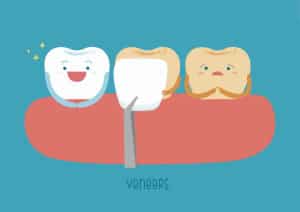 ave you noticed your teeth lately? Sure you brush them twice a day, but have you really noticed them? How do they look? Worn? Stained? Your smile can make you look older or younger, and we all prefer to look younger. If your smile is aging you and you're looking for an easy fix, you might consider looking into dental veneers or Lumineers. Although Lumineers are less invasive, easier, and reversible, both treatments can give you a brand new smile. Keep reading to find out more about dental veneers and Lumineers.
Porcelain Veneers
Although extremely thin, porcelain veneers require the removal of approximately ½ millimeter of tooth enamel to accommodate the thickness of the thin veneer shell. After removing the appropriate amount of tooth structure and preparing the tooth for bonding, the veneer is place and cured with a special light to permanently cement it to the surface of the tooth. Once the procedure is performed it cannot be reversed. Porcelain veneers are custom fit, durable, and long lasting. The porcelain material mimics your natural tooth color, translucency, and opalescence, blending with your natural teeth while brightening your smile.
Lumineers
Lumineers are a less invasive procedure. Although porcelain veneers are thin, Lumineers are even thinner–about half the thickness of porcelain. Because of this they can be placed directly over your teeth without the need to remove tooth enamel. Although applied the same way as porcelain veneers­–bonded and cured–Lumineers are reversible. However, because they are so thin, for particularly dark teeth or teeth with dark stains, the thickness of a porcelain veneer may be more appropriate.
ABOUT YOUR GRAND PRAIRIE DENTIST:
Dr. Quinn Smith is a well-respected and highly experienced general, restorative, and family dentist in Grand Prairie, TX. He takes a patient-first approach that starts from the moment patients enter our Pecan Tree Dental office, and he offers a three-year guarantee on all dental work that he performs. Whether you and your family are new or returning patients, you can schedule a consultation or your next appointment with Dr. Smith by contacting us at (972) 262-5111.