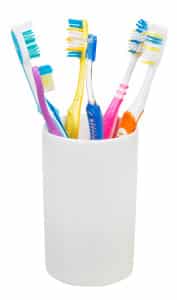 Electric vs. manual, soft-bristle vs. hard-bristle, ergonomic vs. traditional…there are so many choices. Do you wonder what all the fuss is about? What is the difference between all of these toothbrushes? Are ergonomically designed toothbrushes better than other toothbrushes? What is so special about them? Do you need an ergonomic toothbrush? We answer some of these pressing questions below.

Question: What is ergonomics?
Answer: Ergonomics is the science of designing products so they are more efficient and more comfortable for the user. In the past the user would have to fit themselves to the product whether it was comfortable to use or not. Ergonomics makes it easier to perform the tasks the products are designed for.
Question: Why were ergonomic toothbrushes developed?
Answer: Ergonomic toothbrushes were developed to help improve the way people clean their teeth.
Question: What's so special about an ergonomic toothbrush?
Answer: Ergonomic toothbrushes are designed with lighter handles, special grips so holding the toothbrush is easier and more comfortable, and specially designed heads for reaching difficult to clean areas.
Question: Do I need an ergonomically correct toothbrush?
Answer: Truthfully, the adult population probably would not gain a great advantage by using an ergonomically designed toothbrush. However, they can help young children who lack the dexterity to brush properly, adults with handicaps, and the elderly with physical limitations.
Question: Which matters more, the toothbrush I use, or the way I brush?
Answer: It is more important how you brush and how often you brush than which toothbrush you use. The American Dental Association (ADA) recommends choosing a soft-bristled toothbrush, and brushing for two minutes at a time twice daily.
ABOUT YOUR GRAND PRAIRIE DENTIST:
Dr. Quinn Smith is a well-respected and highly experienced general, restorative, and family dentist in Grand Prairie, TX. He takes a patient-first approach that starts from the moment patients enter our Pecan Tree Dental office, and he offers a three-year guarantee on all dental work that he performs. Whether you and your family are new or returning patients, you can schedule a consultation or your next appointment with Dr. Smith by contacting us at (972) 262-5111.