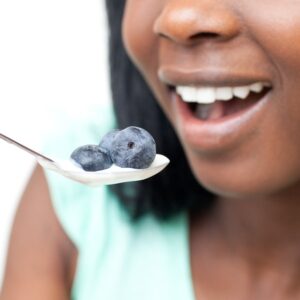 In honor of National Blueberries Month, let's explore the dental benefits of this superfruit. Packed with antioxidants and essential nutrients, blueberries can boost oral health and contribute to a beautiful smile.
Combatting Oral Bacteria: Blueberries' antioxidants help fight harmful oral bacteria, reducing the risk of cavities and gum inflammation.
Anti-Inflammatory Power: With their anti-inflammatory properties, blueberries can prevent gum disease and promote healthier gums.
Strengthening Tooth Enamel: Vitamins like K and manganese in blueberries strengthen tooth enamel, protecting against decay and sensitivity.
Fresh Breath & Oral Hygiene: Blueberries' natural compounds promote fresher breath and improved oral hygiene.
Enjoying Blueberries: Incorporate blueberries into your diet with snacks, smoothies, or as a topping for breakfast dishes.
Celebrate National Blueberries Month by indulging in this superfruit, boosting both your oral health and overall well-being. Remember to enjoy them in moderation and maintain regular dental care for a beautiful, healthy smile. Happy National Blueberries Month!