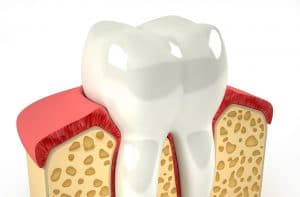 Dental crowns are one of the more popular forms of restorative dental treatment, and for many good reasons. Designed to mimic a healthy, natural tooth's crown, the restoration is meant to be bonded over a tooth that's been damaged or structurally compromised in some way. Given the progressive nature of tooth damage (your tooth doesn't heal, so any damage will only grow worse), a dental crown can often be the most effective way to save your tooth and preserve its remaining healthy, natural structure.
The importance of structural integrity
Your teeth are made from and protected by the strongest substances that your body produces. They have to be in order to effectively perform as often as they do without sustaining any significant damage. However, when a tooth becomes chipped, cracked, or broken, its structural integrity can become severely compromised. As you continue to bite and chew every day, the pressure will cause the damage to grow worse, and it can impact everything from your bite's balance and function to the rest of your oral health. With a custom-designed dental crown, we can completely cap the damaged tooth and restore its structural integrity, thereby reestablishing the tooth's ability to function properly.
Stopping more extensive tooth damage
Even if your tooth is fractured or broken, you may still be able to bite and chew your food comfortably, for now. Yet, without restorative treatment, the damage to your tooth will grow worse, and eventually, your oral health and bite function will suffer for it. The only way to stop the damage is to restore the tooth, and in many cases, a customized dental crown offers the most beneficial way to do it. Not only does capping the tooth with a crown stop the damage from getting worse, but also helps improve your bite balance so other teeth are not at a higher risk of sustaining damage, as well.
Restoring more than just your tooth
Restoring your tooth so you can preserve the rest of its healthy structure is important for the tooth's sake, but also for the sake of your oral health. Your bite functions best when you have a full set of teeth on your upper and lower dental ridges, and all of them are structurally sound enough to rely on each other. When a tooth is compromised, restoring it with a dental crown not only saves the tooth, but also restores the balance the rest of your teeth need for optimal oral health and bite function.
Find out if a dental crown can save your tooth
By restoring your tooth and preventing further damage to it, a dental crown can help you save your tooth from being lost or needing extraction later. To learn more, schedule an appointment with Dr. Smith and our team by calling Pecan Tree Dental in Grand  Prairie, TX, today at (972) 262-5111.