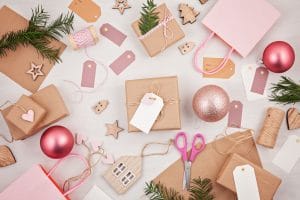 Yes! It's about time! If you're someone who loves poring over the amazingly festive and pretty papers that are out there, the beautiful ribbons, the special tags, and more, then you are serious about your holiday gift wrapping! Beyond the wrapping itself, of course, there are special tapes and accessories that can make things much easier (and, hint: that we strongly suggest you consider). Remember, while this may seem like an innocent aspect of the holiday season, there lurk some surprising smile health hazards that can come into play. Allow our Grand Prairie, TX team to offer some things to avoid!
Carrying Things With Your Smile
It's very easy to give yourself the freedom to tote things around with your smile, when the holiday season is in full swing and you wish you had three, four, five hands, if not more! It seems that there's always too much to carry and transport and no easy way to make it all happen. When you're trying to move your collection of gift wrap items from one room to the other, shift gifts from one spot to the next, and more, do yourself a favor: Leave your teeth out of the equation, though it may be quite tempting, so you don't break them! Simple. Yet very good for your smile health!
Ripping Open Packages
You may find that you have packages that you need to open, so you can then wrap what's inside. You may have tags on items that need to be removed. You look up and realize you left your scissors in the other room. What do you do? Do you go ahead and use your teeth to get the job done? Or, do you get up again to grab those scissors? As far as we are concerned, you get the scissors! It may seem inconvenient but it is certainly much easier than dealing with broken teeth and a trip to our practice for restorative care in the middle of what should be a relaxing time!
Using Teeth Or Your Mouth To Grip Something
Remember, if you're tearing something as simple as gift wrap with your smile, you can cut your gums. If you're doing lots of chewing through things, holding of items, and more with your teeth, it's certainly possible to avoid broken tissue. However, in the meantime, you'll be placing your jaw joints in harm's way. Skip aggravating this aspect of your smile health (particularly if you already suffer from TMJ disorder) to keep all aspects of your smile safe.
Make Holiday Wrapping Smile Safe! 
Avoid accidentally falling into the trap of damaging your smile, while you wrap some very special gifts, by taking our suggestions seriously! Keep teeth, jaws, and more safe! Set up an appointment in Grand Prairie, TX by contacting your dentist at Pecan Tree Dental to schedule a visit at (972) 262-5111.