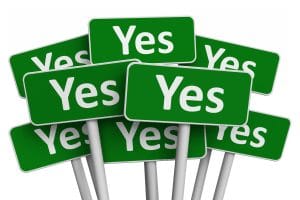 As you know, when you're in need of any type of smile support, we are happy to provide it! However, you might wonder in certain cases about whether it's time to come in, whether it's a good idea to make movement toward a particular treatment, and more. No matter the question, remember that the best course of action is always to call our Grand Prairie, TX team, so we may advise you! For now, let's cover some of those big smile care questions you have (as you quickly begin to realize that the sky's the limit in terms of care when you have dental needs or goals!).
#1: Should I Replace My Missing Teeth?
There may be a part of you that wonders, now that you have missing teeth, are you supposed to replace them? Or, is this one of those elective choices that, like selecting cosmetic smile care, may not necessarily impact your oral health in any way? The answer here is always going to be a very big, yes, you should replace teeth after tooth loss. At first glance, you may assume it's just an esthetic problem. However, it's much more than that! In order to thoroughly protect your smile health in terms of both hygiene and function, a full set of teeth is essential. Fortunately, we offer the prosthetic dental care you need for success!
#2: Should I Come In For Sleep Apnea Treatment?
Again, we know that you may think dealing with serious snoring and sleep apnea is something that's annoying but possibly no big deal. We would like you to consider the fact that the truth is very much the opposite. Ignoring serious snoring can leave you and your partner tired. Ignoring sleep apnea disorder? Now that can have serious consequences to your ability to feel energized during the day and can have long-term negative effects on your very well being! Seek treatment with our smile care team ASAP.
#3: Can You Help Me Get My Smile Looking Better?
We most certainly can! We know that patients sometimes feel a little shy about letting us know they are interested in getting their smiles to the next level in terms of beauty but you are always welcome to mention this smile care goal to us. Whether you are facing some restorative care needs at the moment or if you're a perfect candidate, it's a smart choice to fill us in on your goals (so we can steer your care plan in that direction).
Address Your Smile Needs With Us!
Just tell us what's going on with your oral health, what you have in mind, and schedule a dental checkup with us very soon. Address any and all smile concerns you have, so you can feel extremely confident and comfortable! Set up an appointment in Grand Prairie, TX by contacting your dentist at Pecan Tree Dental to schedule a visit at (972) 262-5111.