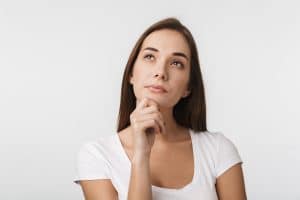 Your smile looks amazingly lovely one second and you have no complaints! You would certainly describe it as a pleasing shade of white. The next, however? You're not singing your smile's praises. Instead, you're shocked to find that it looks nothing like the vibrant feature you thought for sure you'd just been admiring. What's going on? While this can certainly feel frazzling, our Grand Prairie, TX team can help you sort through the mystery, so you quickly see that it's either a bit of an illusion (or that it's about time you came in to see us for your next visit or for cosmetic care!).
It's What You're Wearing!
Remember that warm colors draw out warm tones and that cool colors draw out cool tones. So, if you wear a red shirt, orange shirt, or yellow shirt, your smile is likely to look a bit warmer (or yellow). If you wear something cooler in tone, such as a blue or purple shirt, then your smile will look whiter. Neutral tones will give you a clearer vision of what your teeth really look like. Think you may need cosmetic care some of the time but you're really not sure? Talk with us about the shade of your smile during your next visit!
It's The Lighting
Again, one of the reasons your smile may look like a shade you're completely pleased with one second but the next, a shade that looks like you're in serious need of cosmetic care: It may also be the lighting. In addition to the colors you wear near your smile affecting how it looks, remember that depending on whether you're in warm, cool, or true lighting, this can impact the hue of your teeth. Stand in a bathroom mirror under very warm lighting and it's likely to cause your teeth to look much more yellow than if you are under cool or true toned lighting! Keep this in mind!
It's Been A While Since Your Last Cleaning
Don't forget that between your visits, which we suggest you receive every six months, plaque coats your teeth. If you're quite good about your dental hygiene and seeing us consistently, then you won't notice much change. However, if you wait a long time between cleanings, plaque will build up and turn into tartar! This accumulation, which we remove for you, may create a yellow cast to your smile because it's simply not clean. Come in as consistently as possible to help stave off stains and to keep your grin clean, healthy, and bright!
Avoid Smile Discoloration With Us
Remember that we can both help you avoid the development of discoloration and we can also help you treat any staining that has impacted your teeth. Call us soon for a checkup and to discuss a whiter grin! Set up an appointment in Grand Prairie, TX by contacting your dentist at Pecan Tree Dental to schedule a visit at (972) 262-5111.