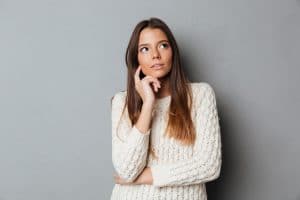 You know that you're trying, when it comes to your oral health. You have a pretty good idea about the details that are involved in removing plaque, protecting teeth and gums, and reaching a smile that's safe, healthy, and lovely! However, you may still wonder: Am I doing what it takes? Or, are you somewhere in between not-wonderful-care and stellar smile care? To help you feel sure about what you're doing (or how you need to improve your current take on smile protection), our Grand Prairie, TX team offers guidance by asking essential questions that will tell you what you need to know.
Are You Brushing And Flossing?
We always begin at the beginning, when we discuss whether a patient is following through on what it takes to maintain wonderful oral health. With that said, of course, the beginning is asking whether you're brushing and flossing your smile (and how it's going). If you're on track and doing what it takes, then the following is true:
You brush in the morning for two minutes
You brush a second time in the evening, again for two minutes
You floss either with your morning or evening brushing session
You're careful to complete a thorough brushing session each and every time!
Are You On Schedule With Preventive Visits?
When was your last preventive dental visit with our team? Did you receive a checkup and cleaning six months ago? And six months before that? If so, you're doing what you should be doing prevention-wise in terms of the professional care your oral health requires!
Do You Need Restorative Treatments Right Now?
Do you need a filling or other restorative treatment right now? If not, then you're on track in this area! If you know that you need a restorative treatment but you haven't scheduled it yet, do so to ensure you're doing your best!
Are You Gentle On Your Smile?
Remember that avoiding oral health problems and damage to your smile isn't only all about hygiene-related illnesses. It's also about your approach. In order to do what it takes to maintain a smile that's extremely healthy, remember that you must approach your teeth and gums gently. If you feel you've been rushing and applying too much force, it is important that you back off of the pressure and remain steady and delicate with your care.
Make Your Smile Its Healthiest
Follow through on the care you need with our team, as well as learning more about all that you're doing right (and what you might improve upon)! Remain up-to-date with checkups for a healthy smile. Set up an appointment in Grand Prairie, TX by contacting your dentist at Pecan Tree Dental to schedule a visit at (972) 262-5111.