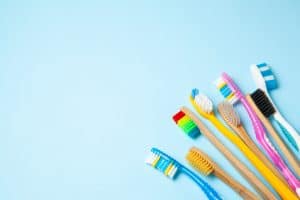 Do you have brushing goals? When did they begin? Whether you came up with them at the start of 2019 or if you are just now realizing that as the year winds down, it's time to get serious, our Grand Prairie, TX team can always help you with matters associated with your smile care! First, of course, it's important to recognize that beyond the basics in terms of how often you brush, the technique you use, and how long you're brushing each time you do so, there's more behind a job well done! There's the motivation, the products you're using, and more! Ready for an information-packed rundown? Let's go!
Start With National Brush Day!
Need that springboard that will help propel you into an end-of-the-year endeavor to do an amazing job with your brushing? Well, lucky for your, we remind you that the first day of November is National Brush Day. Check it out! Participate in recognizing the significance of the 2min2x guideline (2 minutes, 2 times daily) and follow through. This will set you on track with the frequency and duration of brushing that's effective and sure to protect your smile health!
Remind Yourself That It Helps With Smile Resolutions
If you're focused on getting your brushing back up to snuff, then chances are good you've got a resolution or two in the works for the new year. Why not set yourself up for success, rather than putting all of the work and pressure on yourself, once January 1st shows up? When you're already getting back into the swing of things, such as optimizing your dental hygiene, you can look forward to a wonderful year of smile care, a much easier time, and your likelihood to follow through and become successful is greater too!
Remember, Products Are Extremely Significant
Don't overlook your smile care products. If your toothbrush is old and your toothpaste doesn't contain fluoride or is expired, then you're not going to be able to complete your best brushing, even if you try! Check in on your products to ensure they're fresh, they follow the general guidelines we set forth, and that you like using them!
If You Need To Review It All, Come In!
Maybe you don't like to admit it but as you kick your brushing into high gear, you can't say for sure that you're doing it correctly. No problem. Run this by us. We will help during a checkup!
Get Your Brushing In Wonderful Shape
Tell us when you need help, whether it's with a symptom, the beauty of your smile, or even with your daily dental care! Get your brushing back into stellar, effective condition, when you see us for care! Set up an appointment in Grand Prairie, TX by contacting your dentist at Pecan Tree Dental to schedule a visit at (972) 262-5111.