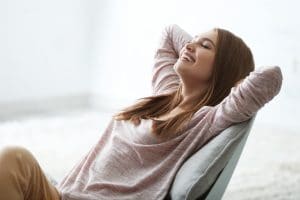 When it comes to dental fillings that help you overcome a cavity, we know that you may find yourself feeling somewhat on edge about your upcoming visit. Or, at least, we hope you have scheduled your filling, if you need one! With that said, what our Grand Prairie, TX team hopes, as well, is that you remember fillings are absolutely nothing to worry about. However, we are also very aware of those aspects of this restorative treatment that are giving you pause (or causing you to shake in your boots)! Let's cover them, so you realize you can sit back, relax, and feel perfectly wonderful about treating your cavity.
#1: You Think It Will Feel Uncomfortable
We know that when a dental filling is causing a patient any amount of anxiety, the number one reason is almost always the anticipation of discomfort. However, we always remind patients that there's no need for a filling to feel bad. When you see our compassionate team for this or any type of restorative dental care, you can expect us to numb your affected tissues. Only then will we proceed with the treatment. The result? You feel very little of anything at all!
#2: You Assume It Will Further Damage Your Tooth
Your tooth is already damaged, of course, if tooth decay has impacted it. However, you may worry about the fact that we have to remove even more tissue in order to place a dental filling. Isn't this going to harm your tooth, you wonder? Well, here's the deal: If you ignore the decay, it's going to eat away more of your tooth tissue. If you treat it, we'll remove a minimal amount to stop the decay and then fill the opening. Our version is the safest option! Plus, remember that the tooth-colored fillings we offer preserve a much greater percentage of your tissue than metal fillings!
#3: You Guess Your Smile Will Look Worse, Not Better
Again, if you're thinking about metal dental fillings of days gone by, then we can understand this worry. However, you should rest assured that with tooth-colored fillings, there's nothing in the world to worry about! The color of the composite (which is what we use to fill your tooth) is going to match your tooth! Your smile will look great.
Receive A Fantastic Filling With Our Team
Learn more about the advantages that come with receiving a tooth-colored filling with our practice! Come in to address your tooth decay, to restore your tooth, and then return to your life with optimal oral health! Set up an appointment in Grand Prairie, TX by contacting your dentist at Pecan Tree Dental to schedule a visit at (972) 262-5111.