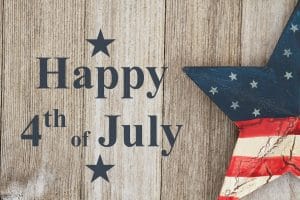 Whether you're prepared or not, the 4th of July is going to show up and with quite a bang (or some big booms, thanks to the lovely fireworks that will light up the evening sky!). So, if you are a parent and you have kids' smiles to take into consideration, our Grand Prairie, TX team reminds you that getting just a few details together will greatly benefit you. When you've thought about your celebration ahead of time, you can feel absolutely sure your children's oral health is going to be safe and sound (even if you're planning on attending a party with tables full of sweets and treats), as you enjoy a fantastic day as a family.
Enjoy Some Tooth-Related Activities
Do your kids tend to wake up on any holiday, ready to ask for any potentially related dessert or candy item that might be associated with what's being celebrated? When you feel certain you'd like to have some plans and distractions ready to go, we encourage you to consider some fun activity sheets provided by the American Dental Association! They are enjoyable, they're 4th-of-July themed, and they'll even help remind your kids that oral health is important! How about that?
Use This Time To Consider Sealants
Take some time to reflect, as you're simply enjoying this holiday with your kiddos, on the thought of dental sealants. Whether you're sitting around at a cookout, enjoying apple pie and ice cream together, or you're brushing and flossing once you get home for the evening, remember: It's hard for kids to keep their smiles in pristinely clean condition! However, they're trying and learning! Wouldn't it be nice to put an extra safeguarding measure in place, so you can breathe a sigh of relief about their oral health? Learn more when you come in next.
Keep Water Ready!
So, about all of those yummy 4th of July treats! If you're planning on eating them, if it's possible for the much beloved summertime beverage we love (called lemonade!) to make an appearance, etc., you should definitely keep some water nearby. We suggest you have your whole family drink water (and swish) after snacks, meals, desserts, and even acidic drinks to keep oral health safe. It's also a smart way to stay hydrated if you're outdoors for your celebration!
Protect Your Kids' Smiles With Our Care
Bring your children in for all of the visits they need to keep their smiles looking lovely, feeling good, and in wonderful health! We invite you to give us a call whenever necessary to set up a checkup with us! Set up an appointment in Grand Prairie, TX by contacting your dentist at Pecan Tree Dental to schedule a visit at (972) 262-5111.