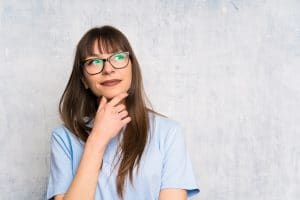 If you're the type of person who puts everything you've got into something you want to achieve, then chances are good you've been doing as much as possible to make your smile care airtight! You love knowing that you're considering every possible detail that you can to keep your oral health in lovely condition. However, it's only natural to start wondering: Are you really doing it all? Or, is there, perhaps, just a tiny bit of room for improvement? Our Grand Prairie, TX team offers you both a round of applause for your hard work and some thoughts that may help you determine whether there's anything left to add into your personal oral protection.
How's Your Dental Hygiene Routine Going?
Let's begin with the most basic part of your smile care and the part over which you have complete, daily control. Are you doing well with your brushing and flossing? Though you likely already have the details memorized and in place, a review is certainly always worthwhile:
Effective care means you're brushing twice every day, morning and evening, two minutes each time you brush
Effective care means you're also flossing thoroughly and that you're doing so either in the morning or evening along with your brushing
Are You Keeping Up With Professional Care?
Now, for the rest of the essential preventive care steps you need to take to keep teeth and gums nice and clean and healthy: Are you following through with the smile care we suggest you receive by scheduling visits with our practice? Remember that smile care absolutely must include checkups and cleanings that you attend every six months. Keep this as on-schedule as possible for excellent smile care!
Is Your Diet Full Of Essential Nutrients?
We remind you that beyond the preventive smile care that you practice in terms of keeping your smile clean, there's also protecting your smile from the inside out. How is your diet? Are you doing your best to eat a diverse array of foods that are packed full of essential nutrients? Don't forget that healthy eating is healthy for your teeth and gums, too!
How's Your Daily Sugar And Acidic-Foods Intake?
Remember, as well, that you want to keep your oral environment as neutral as you can (so acids caused by actual consumption of acidic foods and drinks, as well as sugars and carbs, don't lead to cavities, erosion, and more).
Are You Drinking Enough Water?
Gulp that H2O! Hydration is essential for optimal smile care.
Improve Your Smile Care With Easy Suggestions
Let us know if you are looking for ways to make your smile care as effective and streamlined as possible! When you have specific questions or general uncertainty, take advantage of our knowledge for improvement! Set up an appointment in Grand Prairie, TX by contacting your dentist at Pecan Tree Dental to schedule a visit at (972) 262-5111.