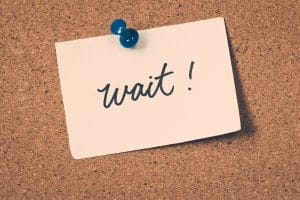 When symptoms of TMJ disorder (TMD) show up, you may instantly have some inkling as to what they mean and, rather than pick up your phone to call our team, you may instead feel like you'd rather just dismiss them. Our Grand Prairie, TX team suggests you avoid giving into that feeling of dismissal, however, and encourages you to get in touch with us right away! "Even for little, minor symptoms?" you may be asking. The answer is yes. In short, when a change occurs that points to a possible issue with your jaw joints, it's a good idea to see us! Now, for some examples.
A Change In The Way Things Feel
You might notice a sudden twinge, scraping sensation, or popping feeling in your jaw joint area. However, your first instinct is to dismiss it. Don't do that! Instead, contact us to let our team know what you're experiencing. If we tell you to simply wait to see if it happens again, then you know you can give it more time. However, we may suggest that you come in ASAP for a dental checkup, so we can take a closer look and ask further questions. Whatever the case, don't ignore physical changes!
The Arrival Of New Noises
We remind you that in addition to paying attention to things that feel different, it's also wise to pay attention to things that sound different or new. Remember that with TMJ disorder, new noises are common. They emanate from your jaw joints, where a problem with your TMJ may result in popping, snapping, or similar sounds. Don't dismiss them. Don't panic either! We offer TMJ treatment to help your jaw joints rest, heal, and to minimize the problem before damage occurs.
When Others Comment On Your Muscle Tension, Etc.
If someone mentions that you seem to really be tightening up your jaws these days, that you've been grinding your teeth, etc., don't ignore this! Instead, take it seriously and either come in for a visit or let us know about this during your next dental checkup, as it may point to the potential need for TMJ care.
Pain Common To TMD
If you're dealing with pain common to TMJ disorder, don't dismiss it. Remember, pain may include discomfort at the site of your TMJs or the areas surrounding them, such as your head, neck, and shoulders. Just give us a call to schedule a checkup, so we may help!
See Our Team For TMJ Help
Make it your priority to visit our team when you think TMJ issues may be affecting your oral health. Follow through on any lifestyle suggestions or TMJ treatment we suggest in order to keep your jaw joints safe. Set up an appointment in Grand Prairie, TX by contacting your dentist at Pecan Tree Dental to schedule a visit at (972) 262-5111.