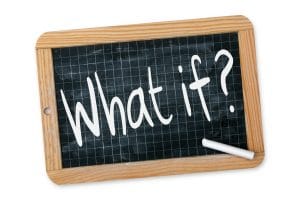 If you wouldn't exactly describe yourself as the pinnacle of the "go with the flow" personality but instead find that you frequently fall into the trap of "what if" thinking, the we are happy to report that we happen to be the dental practice for you! When your thoughts about dental care lead you to wondering about what you would do should certain situations arise, you can quickly find relief when you realize all you would have to do is contact our Grand Prairie, TX team for a visit. Gain a better understanding about what we mean!
What If I Break A Tooth Or…?
It's perfectly natural to worry about what might happen if something bad happens to your smile. You may find yourself sitting around one day, wondering something like, "What if I break a tooth? What if I have a toothache but there aren't any more open appointments for the day? What if…?" This type of concern comes to just about everyone at some point! However, you don't have to worry. It's the reason we offer emergency dentistry!
What If My Hygiene Isn't Working?
You know that brushing and flossing are key to a healthy smile. However, you may wonder to yourself, what if you are trying very hard but it's just not working? Again, we are happy to report that this is a normal concern and that it's actually possible this could happen (if you're missing some important detail). The reassuring news? If this were to happen, you would schedule a visit and we would tell you how to improve your efforts. Easy!
What If My Smile Turns Yellow?
If your smile turns yellow, you chip a tooth, or any other esthetic issue begins impacting your grin, there is absolutely nothing to worry about. We provide full cosmetic care to our patients, so you can recapture a youthful, beautiful, vibrant grin!
What If I Develop Sleep Apnea?
One day, you don't even know what sleep apnea is. The next, a friend tells you all about it and you wonder: What if it happens to you? Fortunately, this is something that's often very easy to manage with the use of a mouthguard that you wear a night. In short: You would be able to access sleep apnea treatment from our team because, as mentioned, our listing of services is truly comprehensive!
See Us For All Dental Needs
Whether you need a preventive visit, extraction, emergency dental visit, help with the beauty of your smile, or anything else under the sun, call us! Remember that we offer comprehensive care for any smile need you have. Set up an appointment in Grand Prairie, TX by contacting your dentist at Pecan Tree Dental to schedule a visit at (972) 262-5111.