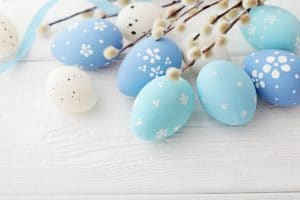 You've probably watched your kiddos search through the grass before, as they seek out hidden Easter eggs in their adorable springtime outfits! You may even create an egg hunt in your home! However, if your children have never splashed about in a pool, swimming for eggs before, then this upcoming Easter Egg Swim 2019 in our Grand Prairie, TX community just might be the stuff that dreams are made of! Don't miss out!
What Is This?
Just as you may already have guessed, the Easter Egg Swim 2019 is your child's chance to celebrate Easter fun in the water! Enjoy the heated water of the Kirby Creek indoor pool, while your kiddos seek out eggs, have tons of fun, and even have the chance to win a special treat! Then, after toweling off, the fun continues! Get your face painted, jump your heart out in the bounce house, and more!
When Is It?
Bring the family out for the Easter Egg Swim on April 20th, 2019 from 1:30pm to 3:30pm.
Where Is It?
The event will be taking place at the Kirby Creek Natatorium, located at the following address:
3201 Corn Valley Road
Grand Prairie, TX 75052
How Much Does It Cost?
Admission is $5 per person for participants.
How May I Contact The Venue?
To learn more about the pool, the event, etc., you may contact the natatorium at (972) 237-4170.
Call Us For Your Smile Protection Needs
Keep in mind that protecting your smile means not only brushing and flossing like a pro at home but it also means spending time at our practice! Visit our team for cleanings, checkups, and all necessary smile care! Set up an appointment in Grand Prairie, TX by contacting your dentist at Pecan Tree Dental to schedule a visit at (972) 262-5111.