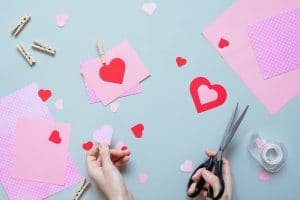 It's nearly here! It's Valentine's Day and it's full of love, creativity, sweet gifts, and probably more sugar than your teeth know what to do with (remember to rinse and brush on this holiday!). As for those sweet gifts, we ask: Have your kiddos been looking for a way to create a Valentine for a friend or secret crush or even a family member? Whether you're short on supplies or space or your kids just love creative events, you will probably want to remember to put the upcoming Valentine's Day Crafternoon in our Grand Prairie, TX community on your calendar! It's sure to be fun (and it will allow you to get out of the annual joy of having your home doused with glitter!).
What Is This?
Valentine's Day Crafternoon gives your kiddos, grades one through six, a dedicated time and space for making some Valentines. While they might not have the chance to make enough for a whole classroom (there are limited supplies at this event), they will certainly have time to create some very special works of art, while they let their creativity fly!
When Is It?
The holiday-themed crafting event will be taking place on February 11th, 2019 from 4:30pm to 5:30pm.
Where Is It?
Your kids may join in the fun at the Tony Shotwell Library. The address follows:
2750 Graham Street
Grand Prairie, TX 75050
How May I Gather More Information?
You may contact the library at (972) 237-7540.
Bring Your Kiddos In To Receive Smile Care
Remember to set up visits not only for your children to receive checkups and cleanings but also for yourself! We offer comprehensive dental care for every member of your family to promote continued smile health. Set up an appointment in Grand Prairie, TX by contacting your dentist at Pecan Tree Dental to schedule a visit at (972) 262-5111.