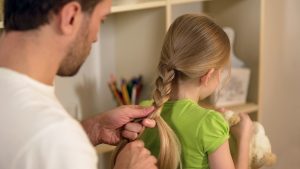 As Valentine's Day approaches, there are quite a lot of Daddy Daughter dances on the horizon. However, before you schedule any sweet outings with your daughter for Valentine's Day, you may have something else you need to figure out first: How to help your daughter with her hair, so she can look wonderful for any upcoming events or any time of year! If this has long been a source of confusion or frustration for you but you'd love to be able to help with this well-known dilemma, don't miss out on the opportunity to attend the Grand Prairie, TX Daddy Daughter Hair Class!
About the Event
Dads and their daughters will meet up at the library with other community members, where dads can learn more about their girls and their hair. You'll have a nice morning out together, as fathers receive instruction for basic, easy-to-achieve hairstyles.
Event Location
This fun hair event is going to be taking place at the Main Library, which is located at:
901 Conover Drive
Grand Prairie, TX 75051
Event Date and Time
Dads and daughters: Remember to register for this event, which will take place on February 2nd, 2019 from 10:30am to 11:30am!
Event Invite List
Fathers and their daughters (ages 5 years and up) are invited to attend!
Additional Details
If you would like to bring up questions or are ready to register, you may send an email to [email protected].
Bring Your Kids In For Comprehensive Care
Stick to your usual plan of scheduling twice-a-year preventive dental care visits for yourself and for your kiddos, so you can be certain that you are protecting the oral health of everyone in your family. Set up an appointment in Grand Prairie, TX by contacting your dentist at Pecan Tree Dental to schedule a visit at (972) 262-5111.