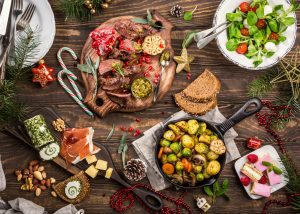 When you're all excited about your holiday feast, the parties you'll go to, and just how much delicious food you're looking forward to, it can send you reeling! What fun. Unfortunately, when you unexpectedly break a tooth because of a danger you couldn't see and weren't expecting, well, this can send you reeling in a not-so-wonderful way. Are there some secrets you should know to help you steer clear of accidental oral health damage, you wonder? Why, of course there are and you can bet that our Grand Prairie, TX team is itching to tell you all about them! Keep the particulars in mind as you enjoy your upcoming meals and snacks!
Remember: Pits And Seeds Are Frequently Hiding
The last thing you think about when you pile cherries and other holiday berries onto your plate, when you pop an olive appetizer into your mouth, and when you bite into some extraordinarily interesting jello is the fact that there may be a very hard nut or seed beneath the surface. Don't forget to examine the food you're eating, consider the possibility of seeds and pits, and to ask your host questions. It's a very, very easy way to avoid accidentally hurting your oral health!
Remember: Food Is Often Hotter Than It Appears
Our team knows that, again, you aren't really thinking about these additional details. You just know that you want that cup of hot cocoa and you want to sip it before the marshmallows melt. You want to try that soup but before it's too cold! Just remember that when you are too excited, you can burn your tongue and your other soft tissue. You probably won't end up in severe pain or needing our help. However, you may end up with scalded taste buds, which can ruin the rest of your party.
Remember: Tough Breads Are As Bad As Hard Crackers
Very hard crackers and cookies are culprits in potential oral health damage that you've come to know. You can easily tell whether they might be too hard for you! However, you may not have ever considered just how much you put your smile at risk when you try to bite into extremely tough breads and rolls. If you notice that the leathery surface isn't giving way (a bagel is a good example), then ease up and find a softer snack. Otherwise, you really might break a tooth!
Protect Your Smile With Our Holiday Tips
Take our holiday tips seriously, so you can avoid problems like damaged teeth. Set up an appointment in Grand Prairie, TX by contacting your dentist at Pecan Tree Dental to schedule a visit at (972) 262-5111.