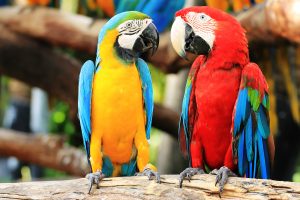 If you ever think to yourself, "I sure wish there was something new to experience," then you may need to look no further than the upcoming Trained Parrot Show. Yep, just like it sounds, you and your family are invited to take a closer look at some extraordinarily talented birds who are sure to impress.
Event Details
If you've ever heard that birds can become trained performers, you might not believe just how true this is until you see it with your own eyes! Rally up the kids, your friends, and family and head out for something that you might be able to say you've never witnessed before: Cockatoos and Macaws will surprise you with their rare abilities!
Event Location
The Trained Parrot Show will happen at Traders Village, which is located at the following address:
2602 Mayfield Road
Grand Prairie, TX 75052
Date And Time
You may enjoy the bird show on March 25th, 2018 from 1pm to 4pm.
Admission
Admission to Traders Village is free. Parking will require a $4 fee.
Additional Information!
If you are hoping to learn more about the venue, event, etc., feel free to call 972-647-2331.
Make Your Smile Bright And Healthy With Professional Visits
Whether you need prevention, restorative care, cosmetic treatments, or all of the above, we are here to guide you toward your healthiest and best looking grin. Find out whatever it is you wish to know about your grin with a visit to our practice in Grand Prairie, TX. Schedule an appointment with Pecan Tree Dental today by calling (972) 262-5111. We proudly welcome patients from Grand Prairie, as well as surrounding areas including Arlington, South Dallas, Cedar Hill, and Duncanville.