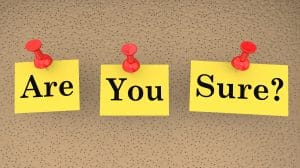 You may like the idea of dental implants. However, getting involved in actually receiving them is another story. Are you sure that you really want them to replace your missing teeth or do they just sound wonderful? If you're having trouble sorting out fantasy from reality, we are happy to remind you that this is a common experience. We are also happy to guide you through some questions to ask yourself to determine whether it's time to make some movement with implants or if it's time to seek out other solutions.
How Much Time Do You Have?
It's not that you need a lot of time to receive dental implants. However, the detail is the fact that you'll need to make time and to be patient (just a little bit patient, anyway). Implants can require about a year or so of your time. As for making time, you will need surgical placement, you will need follow-up appointments with us, we will need to restore your implant, etc.
What's Your Financial Plan Like?
Have you made any choices regarding how much money you are willing to spend for your teeth replacements, how you will pay for them, and more? It's important to have a talk with us about the financial side of dental implants and to reflect on your personal feelings and budget first.
How's Your Oral Health?
If your oral health is perfect (or close to it), then you are likely ready for implants. If you need to fix problems like gum disease or address jaw health concerns, then you may still be able to receive them later. These are details to consider! For instance, perhaps your jaw is damaged but you don't want jawbone grafting (though you do want to replace your teeth); if so, you will need to consider other solutions.
Talk About Implants For Your Smile With Our Team
We are here to guide you through any and all dental care needs, including determining whether implants are a wonderful choice for your smile. Schedule an appointment with Pecan Tree Dental today by calling (972) 262-5111. We proudly welcome patients from Grand Prairie, as well as surrounding areas including Arlington, South Dallas, Cedar Hill, and Duncanville.