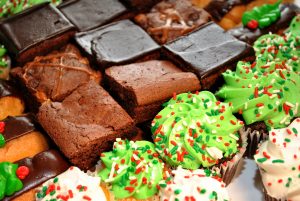 While the spread at your upcoming holiday meal doesn't necessarily include bowls heaping with sugar, it can start to feel that way sometimes. By the time you're done checking out the brownies, chocolates, candy canes, Jell-O, cakes, and assorted pies, you may wonder how you'll ever get through your meal without most certainly promoting tooth decay. Good news: We can assist you in having a nice experience without putting your oral health in harm's way.
Eat Your Veggies
Don't reach for cookies right off the bat. Instead, start with food that is filling, full of vitamins and minerals good for your smile, and full of fiber that will fill you up! Include veggies in the beginning of your meal. They're fantastic for your oral health and general health, too!
Fill Up On Protein And Calcium
Now, don't overlook the turkey on the table. Oh, and make sure you reach for that cheese plate! The protein in turkey is beneficial for your teeth. Calcium in cheese, of course, is essential for your oral health. By the time you've gotten this far into your meal, you will find that limiting the amount of sugar you eat becomes easier because you're probably nearly full!
Eat Dessert With Other Food (Or With Water)
Really want to indulge a little bit (you just didn't want to go overboard)? Choose a dessert and eat it while you're eating your meal (so teeth don't become saturated with sugar). Or, eat it afterwards in the traditional fashion. Just remember to sip water when you're through, so sugars are pushed from your smile.
Enjoy Your Holiday Meal Without Hurting Your Smile
Need some helpful advice for getting through meals without harming your oral health? We are full of helpful details! Set up an appointment in Grand Prairie, TX by contacting your dentist at Pecan Tree Dental to schedule a visit at (972) 262-5111.