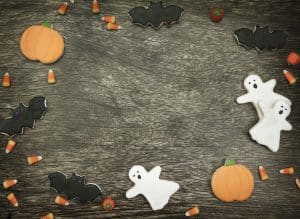 Are you ready to deal with the upcoming inundation of piles and piles of candy that are headed our way? Perhaps as far as you are concerned for yourself, it's a cinch! However, when it comes to figuring out how to feel like a parent that's equal parts responsible and fun, would you say that you're feeling just a wee bit conflicted at the moment about your child's oral health? If you think you're the only one, guess again! We hear similar concerns from parents every single year around this time. So, without further ado, let's get you geared up for the end of the month with a helpful quiz.
Quiz Questions: True or False?
True or False: If you're letting your children eat any amount of Halloween candy, you're not doing a very good job of keeping their smiles healthy.
True or False: All candy is just as negative an influence on your child's oral health. Sorting through your kids' collection won't help.
True or False: Having fun at home for Halloween can include healthier treats; your kids will enjoy it, too!
Quiz Answers
False. We simply encourage patients and parents to practice mindful smile care in an effort to keep teeth clean after consuming sugars and carbohydrates on which bacteria feed. Living life should be fun!
False. Remove anything extremely adherent (sticky, tacky, etc.), anything too hard (like suckers, lollipops, hard candy), and anything tough or highly chewy. This leaves candies that more quickly dissolve in your child's mouth, which prevents teeth from remaining covered in sugar particles for too long.
True. Try decorating oranges for Halloween and indulging in them in place of candy. Or, consider slicing carrots into medallion shapes or triangles and making them into a smiley Jack-o-Lantern face on a plate. Get creative! It's sure to please.
Have Fun While Protecting Kids' Smiles With Our Tips!
Ask for tips, suggestions, advice, and more for your children's smile health when you come to see us for preventive care for the whole family. Set up an appointment in Grand Prairie, TX by contacting your dentist at Pecan Tree Dental to schedule a visit at (972) 262-5111.