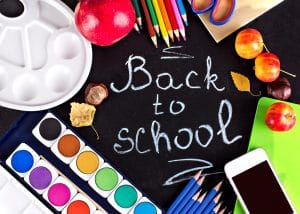 Are you gearing up to get your kids ready for the new school year to begin? If so, one of the tasks on your to-do list might be "visit the dentist" (or at least we hope that's the case!). While your intentions are already on track, we would like to remind you of a few important things to consider to ensure your kids are fully prepared for the first day of school with healthy, protected smiles and optimal oral health.
#1: Mouthguards May Need Replacement
Don't overlook the fact that, unlike you, your child is going to lose baby teeth. Permanent teeth will continue to grow in. Your child will grow! Everything about these details means that your child's mouthguard that fit beautifully one moment may suddenly not fit anymore. Or, damage could make it less effective. See us before school starts to make sure your child's mouthguard will offer the oral health protection your child requires.
#2: Sealants Before School Is Easier Than During
It's easier to do just about anything during the summer break than it is when school is in session. If you've got younger kids who do not yet have dental sealants, getting them in just before school is a fantastic idea. You'll have the luxury of time on your side, so you can ask questions and send your little one back to class with a smile that is easier to protect.
#3: It's An Easy Time For A Checkup And Cleaning
Again, don't wait. You'll be so pleased that you took care of the cleaning and checkup before school begins. You'll know how your child's smile is doing, we will remove plaque and tartar, and you can stop worrying about cavities and other oral health concerns on top of everything else you have to do to prepare for school!
Get Kids Ready For School With A Checkup
Schedule that checkup and cleaning for your kids right now, so you don't need to scramble to do it during the school year. Set up an appointment in Grand Prairie, TX by contacting your dentist at Pecan Tree Dental to schedule a visit at (972) 262-5111.