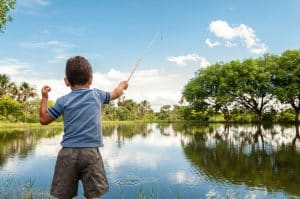 Looking for a way to break up the monotony of summer days, so your kids don't stare at TV, computer, iPad, and phone screens 24/7? No problem! Help your kids connect with nature and have a blast with Adventure Days For Kids!
The Event
This is a chance for your kids to spend some time in the park, while Loyd Park hosts outdoor adventures your little ones will enjoy. Kids will have the chance to fish, hike, and more!
Date And Time Details
Adventure Days will take place on Wednesdays and Thursdays, beginning June 7th and ending August 10th. Have your kids spent time in the park yet? It's never too late to head out and join the community for some outdoor fun!
Location Info
The Adventure Days For Kids takes place at Loyd Park at Joe Pool Lake, which is located at the following address:
3401 Ragland Road
Grand Prairie, TX 75052
Admission To Event
Children ages 8 through 12 are invited to join this event. Admission follows:
Daily Pass: $5 per child
Season Pass: $40 per child
Additional Details
To register and ask questions, call Loyd Park at 972-237-4120.
Schedule Your Next Checkup Soon
Don't forget that your checkups and cleanings should occur every six months, so schedule your next visit soon! Set up an appointment in Grand Prairie, TX by contacting your dentist at Pecan Tree Dental to schedule a visit at (972) 262-5111.