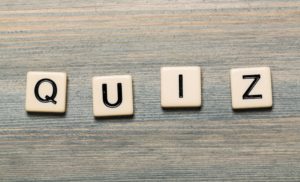 Do you know what restorative care offers you? Are you sure about when this area of dental care becomes essential for you? Perhaps you're not sure whether it's something you should be accessing right now or if it includes treatments you only require in particular instances. To help you improve your knowledge of the dental care to which you have access, we've created a quick quiz. See how much you know (or learn some very helpful facts) to protect your smile.
Quiz Questions: True or False?
True or False: If you need restorative care, it's because your smile is diseased or damaged in some way.
True or False: It's important to remember that discovering your need for restorative dentistry is not difficult. We will generally be the ones to let you know you are in need of a treatment, as long as you continue to show up for checkups.
True or False: Restorations include fillings, crowns, tooth replacement options, root canal therapy, and extractions.
Quiz Answers
True. We offer restorative care to restore your smile. This means that your oral health has begun to decline in some way (possibly an injured tooth, infection, decay, or otherwise). Restorative dentistry puts things back the way they were before the problem began.
True. You are always free to let us know if you need help (maybe you break a tooth or experience a toothache). However, in many instances, we will let you know you're in need of a restoration when we see you during checkups and examine your smile.
True. Anything that addresses a problem with your oral health and returns it to optimal wellbeing is included.