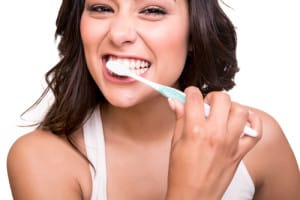 Brushing your teeth is a critical part of your oral hygiene routine in order to keep your mouth healthy. Although, there is a proper way to brush your teeth and a not-so-efficient way. In order to maximize your health, using a soft-bristle toothbrush works best around your gum line and on your teeth. Work in small circles to get rid of any bacteria that's hiding and be sure to brush for an entire two minutes. How often should you brush your teeth? It's recommended that you're brushing at least twice per day – although if you're prone to bacteria and infection, you dentist may recommend that you brush more often.
Why Do We Brush Our Teeth?
Brushing your teeth is part of preventive dentistry – a collection of several treatments that are performed throughout your lifetime to keep your bones, teeth, and gum tissue strong and healthy. Preventive dentistry is working against bacteria that collects in the mouth to avoid infections.
What Does Preventive Dentistry Include?
Besides brushing your teeth, preventive dentistry includes regular flossing and visiting your dentist on the recommended schedule – whether it be twice a year, annually, or even more frequent.
During your visits to the dentist, you'll get a professional cleaning after your dentist checks for oral cancer. Occasionally, your dentist will x-ray your mouth to ensure that everything is where it needs to be. This is also how your dentist is able to detect your wisdom teeth, and determine if they would pose as a risk to your other teeth.