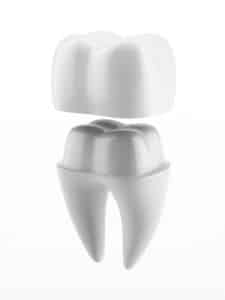 If you have a damaged or decayed tooth, chances are your dentist has recommended that you get crowns put over your tooth (or teeth) to protect them. Dental crowns are also used atop dental implants in order for them to have the shape of a tooth. What are the benefits of dental crowns? There are a multitude of benefits surrounding crowns – cosmetic appeal, resistance to stains, durability, speech restoration, and protection. If you think you could fix or restore your tooth with a dental crown – it's time to give your dentist a call.
Cosmetic Appeal
Crowns can be made in many different materials – including composite resin, a nearly identical color and texture to natural teeth. Porcelain is another material that also resembles the color and luster of a natural tooth.
Resistance To Stains
Not all materials have this added benefit, but porcelain is stain resistant.
Durability
With proper care, dental crowns can last anywhere from five to fifteen years. If you suffer from any issues with your jaw muscles where you clench or grind your teeth – it may be worthwhile to treat these issues prior to installing your crowns. Otherwise, you may end up chipping or damaging your crowns while grinding or clenching your teeth.
Speech Restoration
Since they are shaped like natural teeth, these caps can fully restore your speech – just as it was before you damaged or lost your tooth!
Protection
Placing a crown over a partially decayed tooth will actually serve as protection for the tooth and will prevent the decay from spreading and further damaging the tooth.