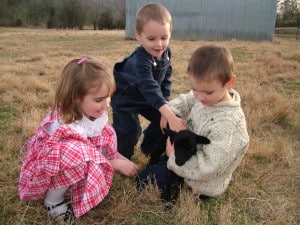 Looking to get the kids away from the TV, their Game Boys, and PlayStations? What kid doesn't like animals? Especially farm animals? Especially farm animals that they can touch! Make friends with piglets, chicks, donkeys, and more while learning about and interacting with a variety of farm animals. It is not just an outing for the kids; it's for family members of all ages. Even Grandma and Gramps will enjoy the day at Green Meadows Petting Farm.
What: Green Meadows Petting Farm
Where: 5610 Lake Ridge Parkway, Grand Prairie, TX 75052
Opened: October Hours Only: Monday through Friday from 9:30am to 4:00pm; Saturday and Sunday from 10am to 4pm.
Admission: Ages 2 and up $12; Ages 1 and under FREE
About
Bob and Coni Keyes first Green Meadows Petting Farm was established in 1964 in Waterford, Wisconsin. In 1983, at the behest of one of their 13 children, the second Green Meadows Farm was opened near Houston, Texas. In 1984 Bob and Coni retired to Florida to avoid the harsh Wisconsin winters but by 2005, Green Meadows had grown to over 13 locations; one for each child, if you do the math.
The Animals, Stables, and Animals 2 Go
The animals in the petting zoo include pigs, goats, sheep, turkeys, emus, horses and more. You can even enjoy interactive pig races!
The stables are a beautiful rustic barn that is offered for year-round events including birthday parties, sports banquets, craft events, baby and bridal showers, picnics, reunions, weddings, and more.
Can't make it to the farm? Animals 2 Go brings animals to your event. We offer a variety of animal packages for festivals, fairs, picnics, birthdays, fundraiser, and more. Prices and availability vary.