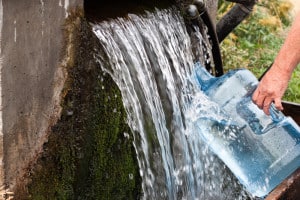 Although it has been proven that fluoride is an effective way to fight cavities, there has always been a question as to its safety. Research and experience goes back 60 years when it comes to fluoride safety, yet there are still naysayers. It is good to question. It is good to be sure. In the1930s it was noticed that those communities whose water supply contained certain levels of natural fluoride had a lower rate of tooth decay. All water naturally contains fluoride but not at a level that will combat decay. In 1945 Grand Rapids Michigan became the first U.S. city to add fluoride to its local water supply. Is fluoride safe for your children? Today we discuss the fluoride question.
Health Concerns
The fear of fluoride use in drinking water stems from the belief that it may pose health risks by causing diseases such as MS, cancer, kidney disease, as well as brain damage, and bone deformities.  While it is not been proven that fluoride causes any health issues, there is a limit on the level of fluoride that should be in water just in case. In 1962 the standard recommended level was 0.7 to 1.2 of fluoride per liter of water. Later that was lowered to 0.7 due to the addition of fluoride in dental products and professional dental fluoride treatments.
Dental Fluorosis
Dental fluorosis is a known condition in children that develops when too much fluoride has been ingested while teeth are in the development stages. It presents as a striped or mottled discoloration of the teeth. Again, if fluoride levels are within the acceptable limits, there are no known side effects. This has been determined after years of ongoing research. The American Dental Association (ADA) stands by the currently recommended levels of natural fluoride in municipal water supplies. Fluoride has been proven over many decades to be a safe and effective way to reduce tooth decay.
ABOUT YOUR GRAND PRAIRIE, TX

 

DENTIST:
Dr. Quinn Smith is a well-respected and highly experienced general, restorative, and family dentist in Grand Prairie, TX. He takes a patient-first approach that starts from the moment patients enter our Pecan Tree Dental office, and he offers a three-year guarantee on all dental work that he performs. Whether you and your family are new or returning patients, you can schedule a consultation or your next appointment with Dr. Smith by contacting us at (972) 262-5111.