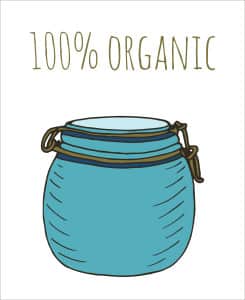 Did you know that some toothpaste consists of harmful chemicals? These chemicals can dry your oral tissues causing dry mouth, bad breath, and even canker sores. You wouldn't expect that your toothpaste could actually make your mouth unhealthy while you are using it for the exact opposite reason. Some of these harmful ingredients found in toothpaste and mouthwash include ammonia, hydrogen peroxide, and formaldehyde. Many people are moving toward organic products including toothpaste. Should you? Take our quiz about organic toothpaste to find out more.
True or False?
True or False: Organic products consist of only natural materials.
True or False: Baking soda is not actually a natural ingredient.
True or False: Baking soda can hurt your teeth.
True or False: Bentonite clay, an ingredient in organic toothpaste, can cause illness.
True or False: Activated charcoal is also an ingredient in organic toothpaste.
Answers:
True: There are no chemicals, additives, or un-natural ingredients in organic toothpaste. They consist of only natural ingredients from the earth.
False: Baking soda is a natural ingredient. Baking soda in its natural form is a white crystalline powder. It is the mineral nahcolite, a chemical salt derived from the earth.
False: Baking soda is a mild abrasive that cleans your teeth by removing sticky plaque and stains. Baking soda serves many benefits in toothpaste. It neutralizes mouth acids, promotes remineralization which helps decrease cavities, it kills germs, and removes odors to produce fresher breath.
False: Bentonite clay is naturally rich in minerals including potassium and calcium both which are good for your teeth and gums. The many vital minerals in the clay also help strengthen your immunity. As an ingredient in toothpaste it cleans and polishes teeth.
True: Activated charcoal serves two purposes in toothpaste. It removes stains to help whiten teeth, and it binds with bacteria and other debris removing plaque causing agents from your mouth.
ABOUT YOUR GRAND PRAIRIE, TX DENTIST:
Dr. Quinn Smith is a well-respected and highly experienced general, restorative, and family dentist in Grand Prairie, TX. He takes a patient-first approach that starts from the moment patients enter our Pecan Tree Dental office, and he offers a three-year guarantee on all dental work that he performs. Whether you and your family are new or returning patients, you can schedule a consultation or your next appointment with Dr. Smith by contacting us at (972) 262-5111.