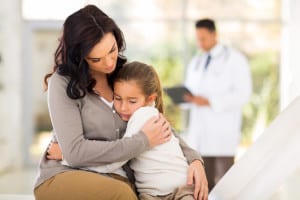 According to research, parents who fear the dentist will pass that fear on to their children. They may not even do it consciously. Children are very in tuned to their parent's feelings and emotions and can pick up on little cues. But it is important that children learn to feel comfortable with dental visits especially since two of the major reasons people skip their dental care is due to dental fear and anxiety. Does your child fear the dentist?
Fears of the Dentist
Psychological studies have shown that fears develop during childhood. Therefore, a child's first dental appointment is an important milestone. You want your child to have a positive, comfortable relationship with his or her dentist from the start, especially since 20 percent of the population suffers from dental fear or anxiety. A positive relationship reduces fear and will lead to better dental health among the adult population.
Things You Can Do
Prepare your child for the visit but don't go into too much detail if they are receiving a dental filling.
Tell them how important their pretty white teeth are.
Read them picture books about dental visits.
Remain calm and don't pass your fears on to them.
Speak positively about the experience.
Be reassuring.
Allow your child to bring their favorite toy or wear their favorite outfit.
Continue positive reinforcement after the visit by telling your child how proud you are of them.
Remind them that Pecan Tree Dental has a box full of trinkets they can choose from after their visit.
Allow your child to pick something fun to do afterward.
ABOUT YOUR GRAND PRAIRIE, TX
DENTIST:
Dr. Quinn Smith is a well-respected and highly experienced general, restorative, and family dentist in Grand Prairie, TX. He takes a patient-first approach that starts from the moment patients enter our Pecan Tree Dental office, and he offers a three-year guarantee on all dental work that he performs. Whether you and your family are new or returning patients, you can schedule a consultation or your next appointment with Dr. Smith by contacting us at (972) 262-5111.