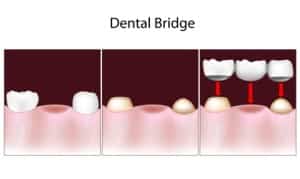 Your dentist is highly educated and experienced regarding how to perform various dental procedures and what problems each type of procedure is for. They will give you their advice and share their expertise, but the decision is ultimately yours. That's why it is good to know as much about your options as possible. Reading our dental blogs before speaking to the dentist is one way to learn about treatment options. Our blogs can give you an idea of what is available, what to expect, how the procedure is done, how long it takes, and more.  Today you can learn about dental bridges by taking our quiz.  
True or False?
True or False: Dental bridges can only replace a single tooth.
True or False: A dental bridge by any other name is still a bridge.
True or False: Removable bridges attach the same as dentures, with denture adhesives.
True or False: Fixed bridges are permanently bonded and cannot be removed.
Answers:
False: Although dental bridges are not like dentures which are meant to replace a whole arch, they are used to replace one or more missing teeth which can be adjacent to each other or otherwise.
True and False: While bridges can be called by different names they are still a bridge. However, there are fixed bridges and removable bridges.
False: Removable bridges are attached to nearby healthy teeth with wire fasteners and can be removed for cleaning.
True: Fixed bridges are firmly anchored and therefore more stable than removable bridges. Crowns on each end of the pontics (false teeth) are bonded to healthy adjacent teeth.
ABOUT YOUR GRAND PRAIRIE DENTIST:
Dr. Quinn Smith is a well-respected and highly experienced general, restorative, and family dentist in Grand Prairie, TX. He takes a patient-first approach that starts from the moment patients enter our Pecan Tree Dental office, and he offers a three-year guarantee on all dental work that he performs. Whether you and your family are new or returning patients, you can schedule a consultation or your next appointment with Dr. Smith by contacting us at (972) 262-5111.