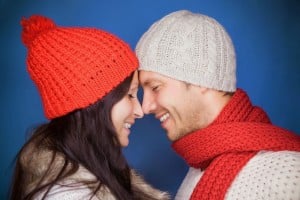 Even if you don't plan on being caught under the mistletoe this holiday season, you'd probably still prefer not to deal with embarrassing bad breath while celebrating the holidays. After all, you don't have to kiss someone for your bad breath to offend them.
Grand Prairie dentist
, Dr. Quinn Smith, knows that bad breath can linger for a number of reasons, and regardless of its cause, it can hinder your confidence and interfere with the joy of the season. To help keep your breath fresh this season, and always, Dr. Smith offers a few tips for defeating the common causes of persistent bad breath, or halitosis.
Tips for Consistently Pleasant Breath
·

Brush your tongue as well as your teeth—You might not realize that bad breath is frequently a result of poor hygiene and excessive oral bacteria. The germs responsible for bad breath tend to gather on your tongue, rather than on your teeth. Use your toothbrush or a tongue scraper to clean bacteria from your tongue during your daily hygiene routine and reduce your chances of consistent bad breath.
·

Don't underestimate your mouthwash—Mouthwash can be a valuable addition to your hygiene routine, rinsing away bacteria and food debris that your toothbrush and floss might not reach. In some cases, Dr. Smith may recommend an antibacterial mouthwash that directly attacks harmful oral bacteria.
·

Eat a well-balanced breakfast before brushing your teeth—When you sleep at night, your saliva flow is reduced and bacteria can gather in your mouth excessively. By the time you wake, your mouth can be overwhelmed with microbes, hence the notorious phenomenon of morning breath. Eating a healthy breakfast helps restart your saliva flow, and makes it easier to remove bacteria while brushing and flossing your teeth.
·

Drink a lot of water—Keeping your saliva flow healthy throughout the day can also help combat the buildup of bacterial plaque on your teeth and tongue. Drinking plenty of water helps keep you hydrated, periodically rinses your mouth, and promotes an adequate flow of saliva throughout the entire day.
About Your Grand Prairie Dentist:
Dr. Quinn Smith is a well-respected and highly experienced dentist in Grand Prairie, TX. He takes a patient-first approach that starts from the moment patients enter our
Park Tree Dental
office, and he offers a three-year guarantee on all dental work that he performs. Whether you're a new or returning patient, you can schedule a consultation or your next appointment with Dr. Smith by
contacting us
at (972) 262-5111.