What to Expect from Porcelain Veneers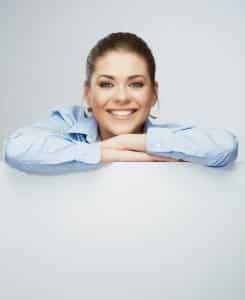 There is a reason that many people would agree that
porcelain veneers
are among the top cosmetic options for patients today. To get to the heart of the issue, porcelain veneers are versatile, and they yield astounding transformations owing to their realistic appearance. If you are interested in a smile transformation with
porcelain veneers
, your
Grand Prairiedentist
, Dr. Quinn Smith, can use veneers to improve many cosmetic problems including gaps, misalignment, discoloration, and damage. The veneers owe their versatility to the fact that they simply hide cosmetic blights behind the new smile they create in attaching to the front surface of teeth. On the other hand, the realism they achieve is a direct result of the quality materials they use, and the knowledge and skills of the dentist who designs them and the technicians who make them. Today's veneers are so realistic that they are even able to mimic the way that light reflects off of living teeth. Just imagine what that kind of detail can do for your smile transformation.
Receiving Porcelain Veneers
The general time frame for a smile transformation with porcelain veneers is between two and three dental visits. After an initial consultation that will allow your
Grand Prairie cosmetic dentist
, Dr. Smith, to understand your goals for your smile transformation, Dr. Smith will prepare your teeth to receive the veneers. Tooth preparation involves scraping some enamel from your teeth to account for the thickness of the veneers. Following tooth preparation, Dr. Smith will take molds of your teeth, which he will send to an off-site laboratory. The technicians at the laboratory will use these molds to create a custom set of permanent veneers for you. In the meantime, however, Dr. Smith may provide you with a set of temporary veneers to wear until your permanent ones arrive at our dental office. Once they do arrive, you can return for another dental visit, during which Dr. Smith will bond your permanent veneers in place, after which time your transformation will be complete.
About Dr. Quinn Smith: Dr. Quinn Smith is a respected and experienced family dentist in Grand Prairie TX. He takes a patient-first approach that starts from the moment patients enter the dental office and offers a three-year guarantee on all dental work. New patients can schedule an appointment or a consultation with Dr. Smith by calling 972-262-5111.